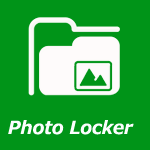 Photo Locker is a app to protect your personal photo.
It require to enter password when open this app.
So it is safe to store your personal photo in this app.
Feature
✔Lock your Photos
✔Encrypt your photos.
✔Import from other app support
✔Export your photo or photo folder
✔Share your photos to other apps
✔Delete photo
✔No limit for photos in album
✔Slider Show support
[How To Use]
1.The first launch of Photo Locker. Please create and confirm your initial password to protect your folders.
2.Confirm your password once again.
3.Import photo to this app.
Try it now!
Note:
1) User must keep the password safe and there is no way recover user's password. Once user forgot his password, there is no way to get the password and his data back.
2) This app locks the photo which is imported to this app. It does not lock any system folder like Photo Album,etc.
Support Mail :
wonderforgeinfo@gmail.com